• 5/5 grapes, "Vintner of the Decade", "Vintner of the Year 2000", "Collection of the Year 2006" from Gault Millau
• 5/5 stars and "Best White Wine Collection of the Year" from Eichelmann
• 5/5 stars from Wein-Plus
What Klaus Peter Keller has achieved with his dry Riesling is extraordinary. His wines have been entitled as "Dry Riesling of the Year" from Gault Millau year in year out. His top wine, the G-Max, is legendary and has twice broken the auction record price, €4,000 for a double magnum of 2009 and over 6,000 for a double magnum of 2012 which was also the first dry Riesling to be given 100 points by John Gilman. His Abtserde, another top wine from one of best parcel in Rheinhessen, has received the highest points from Robert Parker for dry Riesling. Lately, wine connoisseurs have started to realize that his sweet Rieslings and Pinot Noirs are just as good. Klaus Peter Keller is truly the main driving force to put Rheinhessen back among the top wine regions of the world again.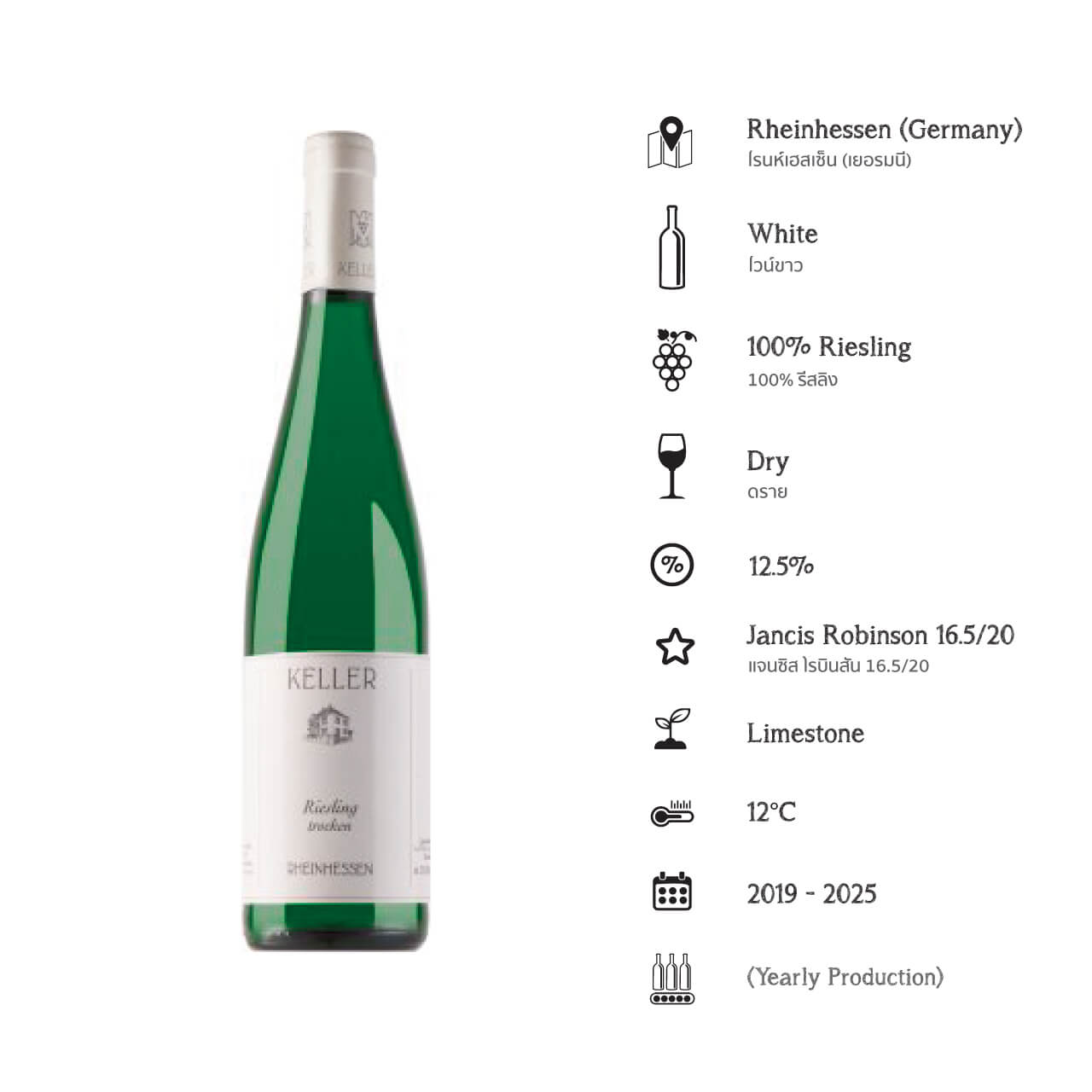 Estate dry Riesling from the best producer of dry Riesling in the world,. The wine show a glimpse of the top dry Riesling from the legendary Keller estate. Very structure with loads of ripe fruit and mineral, yet very subtle and elegant. Even at this level, Keller's wine need time in the cellar to show it true identity.
ไวน์ระดับเริ่มต้นของผู้ผลิตรีสลิงดรายที่ดีที่สุดในโลก ไวน์ตัวนี้แสดงคาเรกเตอร์ของ ไวน์ดรายระดับท็อปของผู้ผลิตระดับตำนานอย่างแคลเลอร์ได้เป็นอย่างดี โครงสร้าง ไวน์ดีเยี่ยม เนื้อน้ำเต็มไปด้วยผลไม้สุกฉ่ำกับมิเนอรัล ลึกล้ำ แต่ในขณะเดียวกันก็โปร่งและสง่างาม
VON DER FELS RIESLING 2018
Jancis Robinson, "A little deeper in colour than the Riesling trocken. Much richer and more complex on the nose, too. Spice and richness that I have not generally found in this wine – it shows the addition of some of the declassified Grosses Gewächs fruit. Those wild herbal notes of spontaneous fermentation but that does not detract from the mountain-fresh citrus of just-ripe Riesling. Has the complexity of the GGs but not quite the depth on the mid palate. As it opens, that spiciness turns into a more mineral quality, but complex minerality not the dusty stony quality of, say, young Chablis. There is also a greater richness in the mouth compared with the 2017 Von der Fels. This vintage this wine seems closer to the GG rather than to the Riesling trocken, as it has seemed in the past. Impressive persistence. This should be a bargain this year."
HUBACKER RIESLING GG 2018
Jancis Robinson, "I really wasn't ready to move on to this after the Kirchspiel. Slightly deeper gold than the Kirchspiel and so different in fruit profile. Smells richer and riper, the fruits ranging from golden plum through apricot and bitter orange. Spicy too, golden and savoury in character. On the palate, it surprises by the extreme freshness – not what I expected after the breadth and oily ripeness on the nose. Even so the balance is perfect – a miracle to get this fruit character together with this intense freshness. Mouth-watering, super-concentrated, bolder than the Kirchspiel but balanced in its more muscular components." James Suckling, "Reminiscent of a lemon drizzle cake ,straight out of the oven, with lemon curd plastered on top in abundance. A very structured and very powerful palate follows with a clear sensation of chewy tannins — yes, on a white! — and outstandingly compressed citrus fruit. Drink now or hold."
ABTSERDE RIESLING GG 2017
James Suckling, "It's been said, perhaps a million times, that riesling has a peachy aroma. Now this wine redefines what peachy means for this grape, so beautiful is the peach aroma in the nose here. Gigantic concentration, but it remains super-bright and pure. The power at the finish is married to totally uplifting freshness. " Jancis Robinson, "This is a little more like the Pettenthal on the nose, wild and fumy and herbal. A high percentage of the fruit was basket pressed. But on the palate it is tight, pure driving citrus fruit, very different from what the nose predicted. Mouth-watering intensity and purity. There's concentration, depth and weight of fruit but the acidity keeps it light on its feet, and a long spiced/mineral finish. Long salty aftertaste increases the freshness. Impressive but very primary and hard to taste, like tasting something that should be mixed with water before drinking."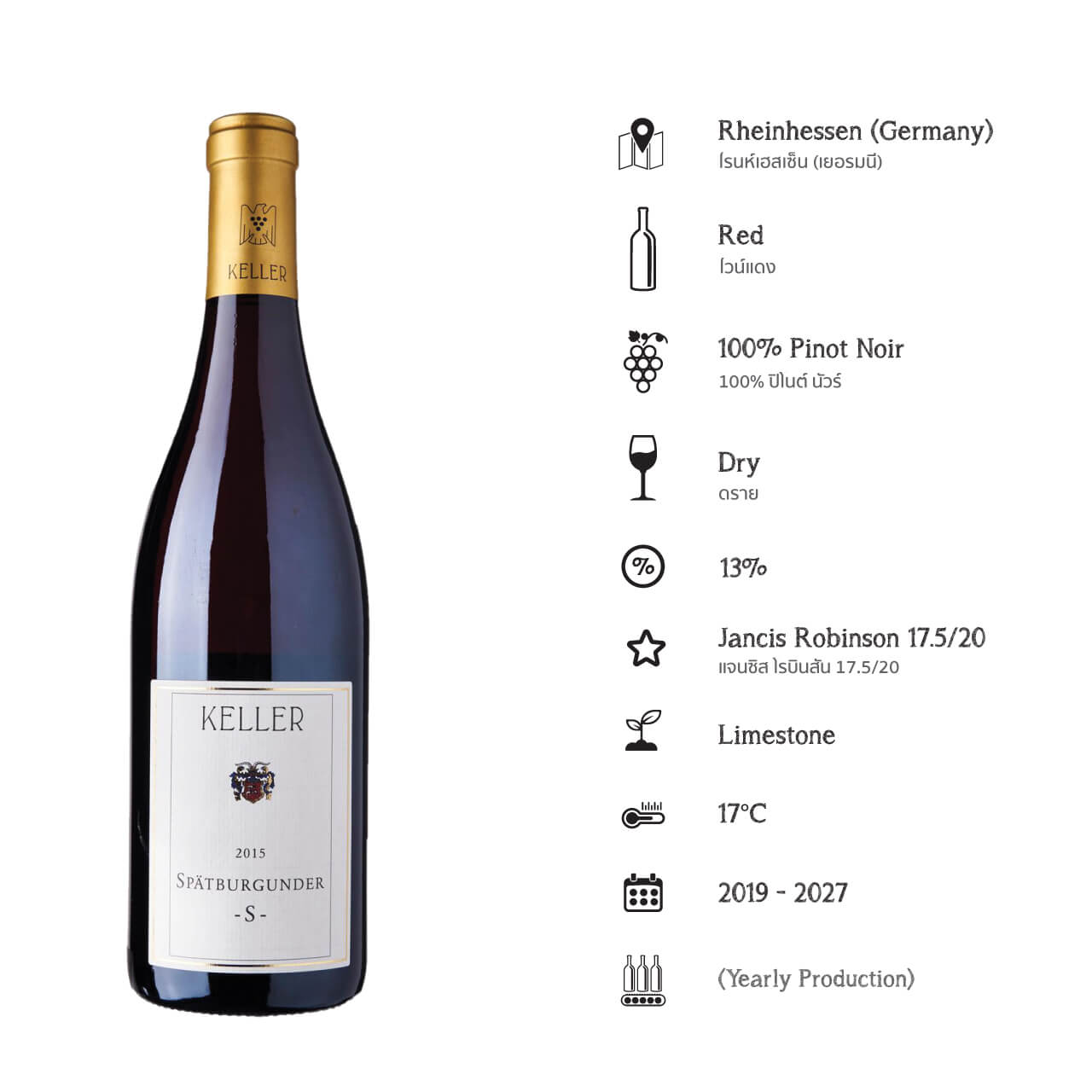 Jancis Robinson, "Very pale ruby indeed. Sweet, ripe, candied-violets nose. Delicate and precious. Precise fruit with quite enough fruit to counterbalance the acidity. Set for the long term. Positively chiselled. So fresh – without being skinny."
ปิโนต์ นัวร์ 100% จากผู้ผลิตรีสลิงดรายที่ดีที่สุดในโลก กลิ่นหอมของเชอร์รี่ดำ ราสเบอร์รี่ เครื่องเทศ กาแฟคั่ว และหนังอย่างดีจางๆ ในปาก ผลไม้สุกอร่อย แอซิดสดชื่น บาลานซ์ดีเยี่ยม บอดี้ปานกลาง จบดีและยาว
Dalsheimer Bürgel GG Pinot Noir 2017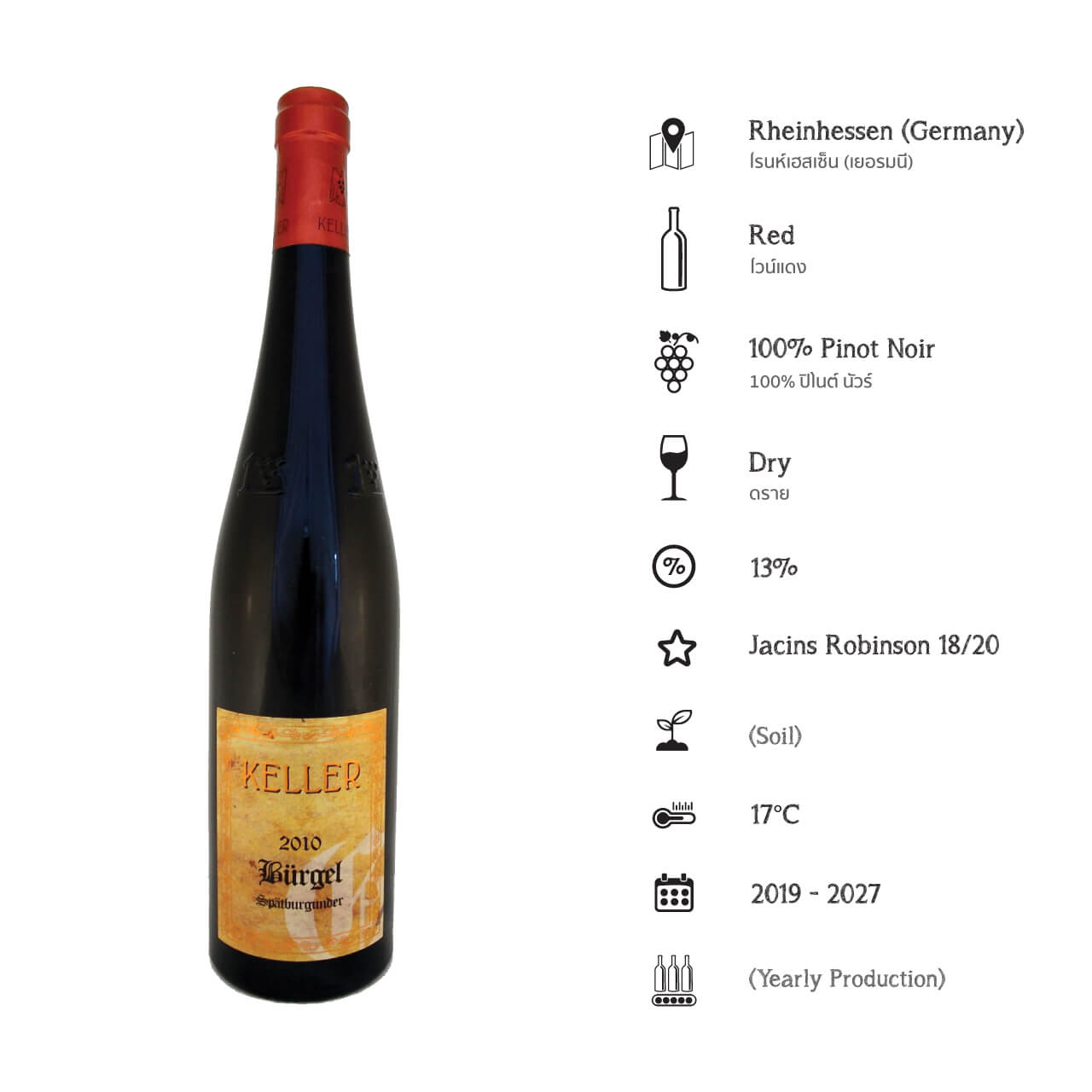 Jancis Robinson, "Mid cherry. Spicy and really tangy red fruits on the nose – brightness of red fruit but not its sweetness. The aroma has the freshness of stems but is not stemmy – around 20% whole bunch in this vintage, apparently. Lightweight yet intense in its pretty, red-fruit freshness. Delicate but intense and persistent. Juicy, incredibly supple, silky already. Beautifully fragrant with the lightest of touches. Fruit sweetness appears more on the finish. Tannins are deceptively light because they still provide shape. Becoming ever-more fragrant as it opens up in the glass. Ethereal, mouth-watering and perfectly balanced. Such beauty. It might seem crazy to put a starting date of 2019 but the fruit is so lovely now, you could absolutely enjoy it in this primary phase even though it has much more to give."