• 4/5 red grapes, "Red Wine of the year" for 8 times in the last 9 years and "Ascender of the year 2006" from Gualt Millau
• 4.5/5 stars from Eichelmann
• 4/5 stars and "Collection of the Year 2011" by Wein-Plus
• "Winery of the Year 2012" by Aral Schlemmeratlas.
In 1973, Friedrich Becker Sr. took over his father's winery, stopped selling grapes to cooperative and start to bottle and sell his own wines. At that time, he is also a pioneer of high quality wines in the southern Pfalz and one of the first vintners to use barriques for Pinots. In fact, the terroir of Becker is very similar to Burgundy, the holy land of Pinot Noir, with its limestone and marl soil. Today his wines stand proudly among the top german Pinot Noirs and challenge the finest wines of Burgundy. His wines are already highly regarded by the German press; especially from Gault Millau, in which his top Pinot Noir was awarded the first place no less than 8 times in the last 10 years.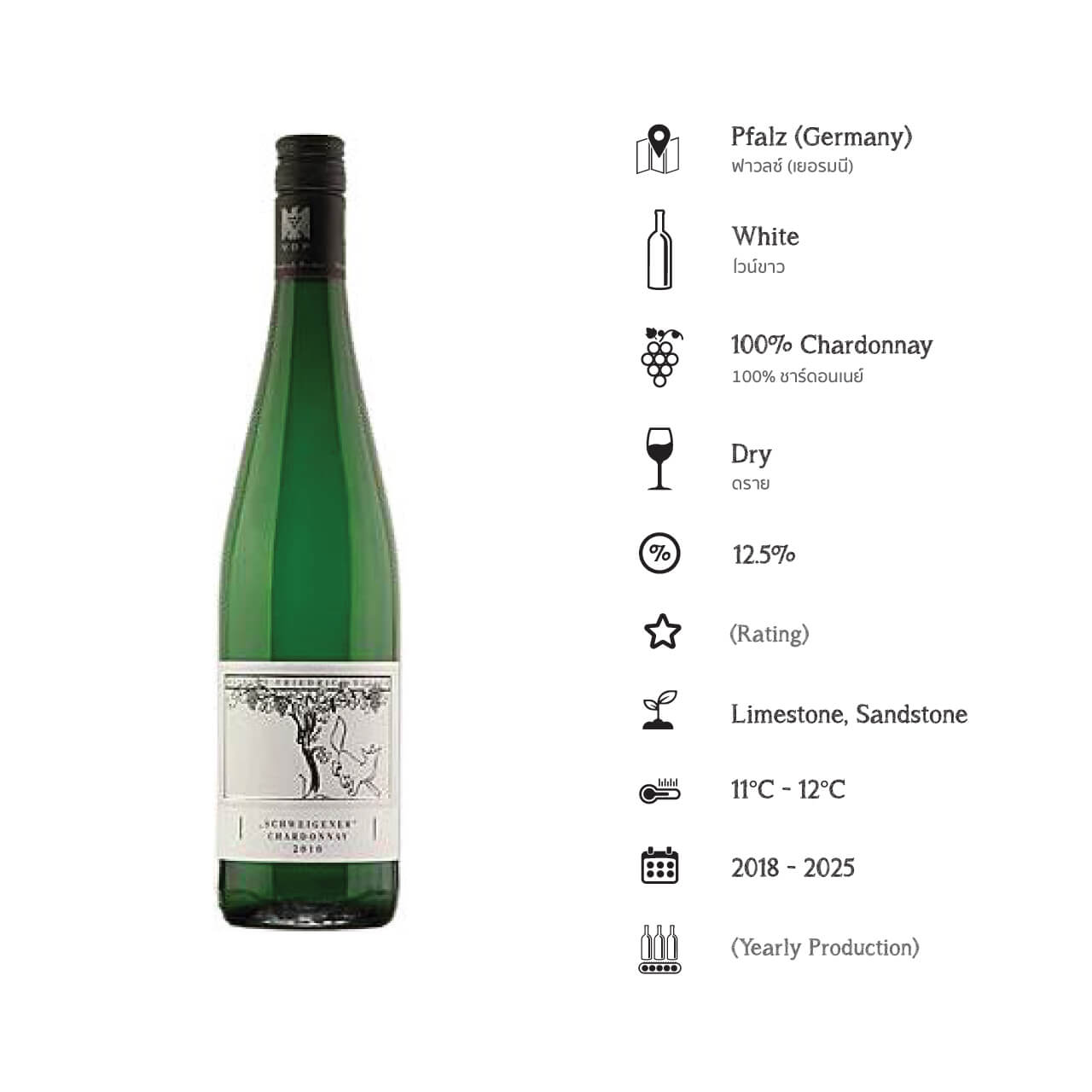 100% Chardonnay from one of the Pinot variety specialist from Germany. The wines went to no oak yielding a refreshing nose of yellow fruits, herbs and wild flowers. On the palate, ripe delicious fruits, lively acid and very good mouthfeel. The finish is elegant with mineral bite.
ชาร์ดอนเนย์ 100% จากผู้เชี่ยวชาญด้านองุ่นเบอร์กันดีของเยอรมนี ไวน์ไม่ใช้โอ๊คทำให้มีกลิ่นหอมสดชื่อของผลไม้ฉ่ำ สมุนไพร และดอกไม้ป่า ในปาก ผลไม้สุกฉ่ำอร่อย แอซิดสดชื่น จบด้วยมิเนอรัลกำลังดี บอดี้นุ่มละเอียด
Beautiful nose of black fruits, cherry, cassis, chocolate and roasted coffee. On the palate, flavourful with good fruit and well integrated oak. Lively acid and well balance with smooth body. Good long finish.
กลิ่นหอมของผลไม้ดำ เชอร์รี่ คาซิส ช็อกโกแล็ต และ กาแฟคั่ว ในปาก รสชาติเต็มไปด้วยผลไม้ฉ่ำอร่อย โอ๊คเยี่ยม แอซิดสดชื่น และสมดุลดี บอดี้นุ่ม จบดีและยาว
100% Pinot Noir from one of the best producer in Germany. Nose of red berry, black cherry, roasted coffee and liquorice. On the palate, good delicious fruit and concentration with lively acid. Smooth body with moderate tannin. Good middle long finish.
ปิโนต์ นัวร์ 100% จากหนึ่งในผู้ผลิตที่ดีที่สุดในเยอรมนี กลิ่นของเบอร์รี่แดง เชอร์รี่ดำ กาแฟคั่ว และชะแอม ในปาก ผลไม้อร่อย เต็มปาก แอซิดสดชื่น บอดี้ปานกลาง แทนนิน ปานกลางนุ่มละเอียด จบยาวปานกลางและดี
Jancis Robinson, "Dusty and spiced, filling the senses with the memory of old church pews in a quiet chapel and the smell of polished wood. Cherries and orange peel, savoury, and there's something here that reminds me just a little of Barolo."
SANKT PAUL GG PINOT NOIR 2015
Robert Parker, "The 2015 Sankt Paul Spätburgunder GG offers a deep and intense color followed by a correspondingly intense bouquet of ripe and concentrated cherries. But this sample at the GG preview in Wiesbaden shows an oxidative touch, and the finish is slightly overpowered. It is still concentrated and juicy, in any case. Tasted August 2018." Jancis Robinson, "The Beckers do not make Pinots which purr like a pussycat, but with its ripe plum and cherry fruit the Sankt Paul offers just a little more respite from barrique power than their other GGs. Nobody said it didn't have any tannins, but they are well balanced by ample body, generous fruit and even a delicious smidgeon of liquorice."
KAMMERBERG GG PINOT NOIR 2015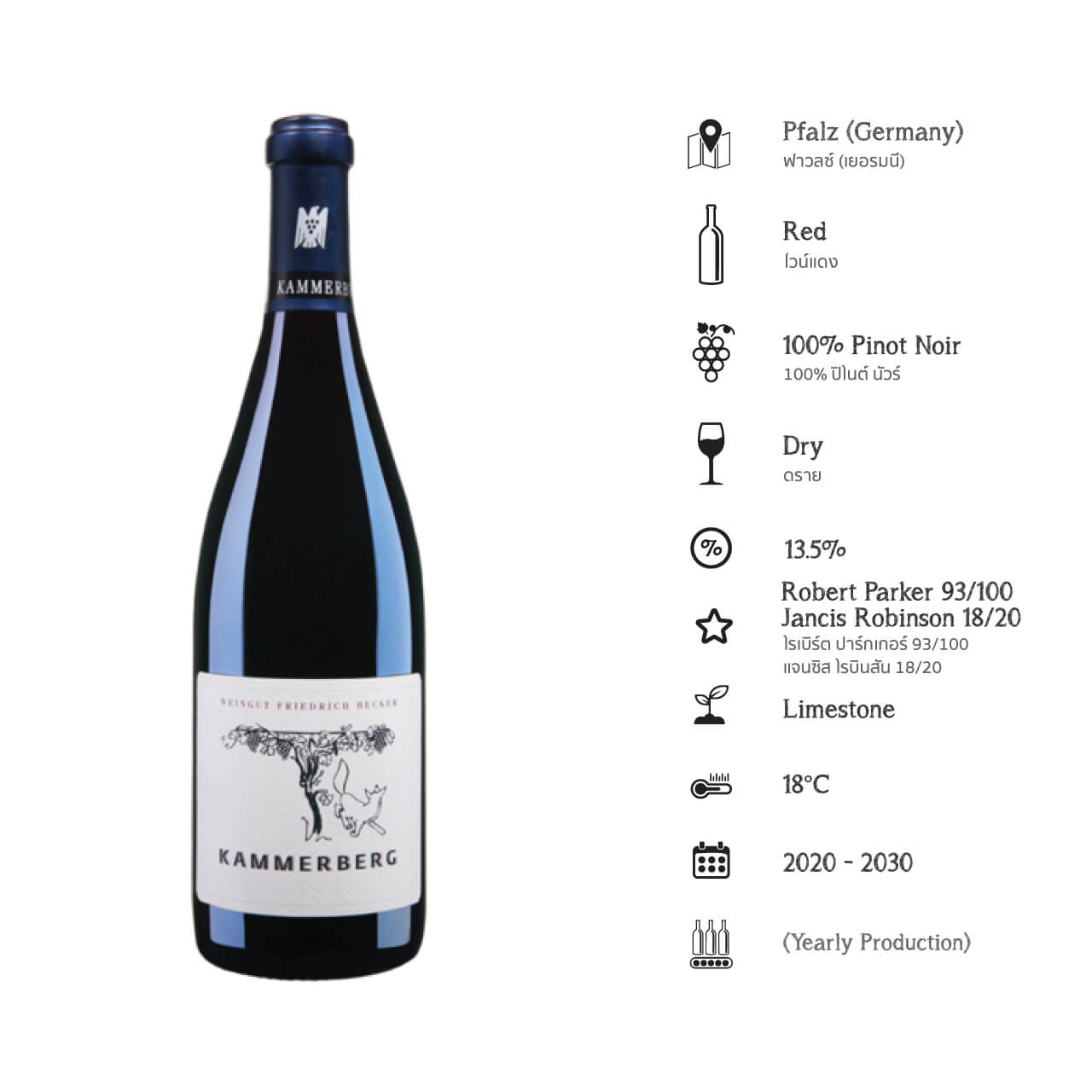 Robert Parker, "'The 2015 Kammerberg Spätburgunder GG is ripe and intense on the nose, with deep and complex but super ripe and concentrated fruit. It is ripe and sweet, with spicy tannins that I find slightly drying right now. This 2015 is a full- bodied, intense, juicy and silky textured Kammerberg with a lot of power and ripeness. Impressive finish. From almost 50-year-old vines. Tasted August 2018." Jancis Robinson, "Ripe plums, dark chocolate, nutmeg and a fine herbal note put together an intriguing fragrance, which does not quite prepare for the tannic onslaught that is to follow on the palate. Even so, the power of barrique can only embrace but not supress the formidable presence of ripe dark fruit and assertiv acidity. An impressive demonstration of Pinot power."
HEYDENREICH PINOT NOIR GG 2015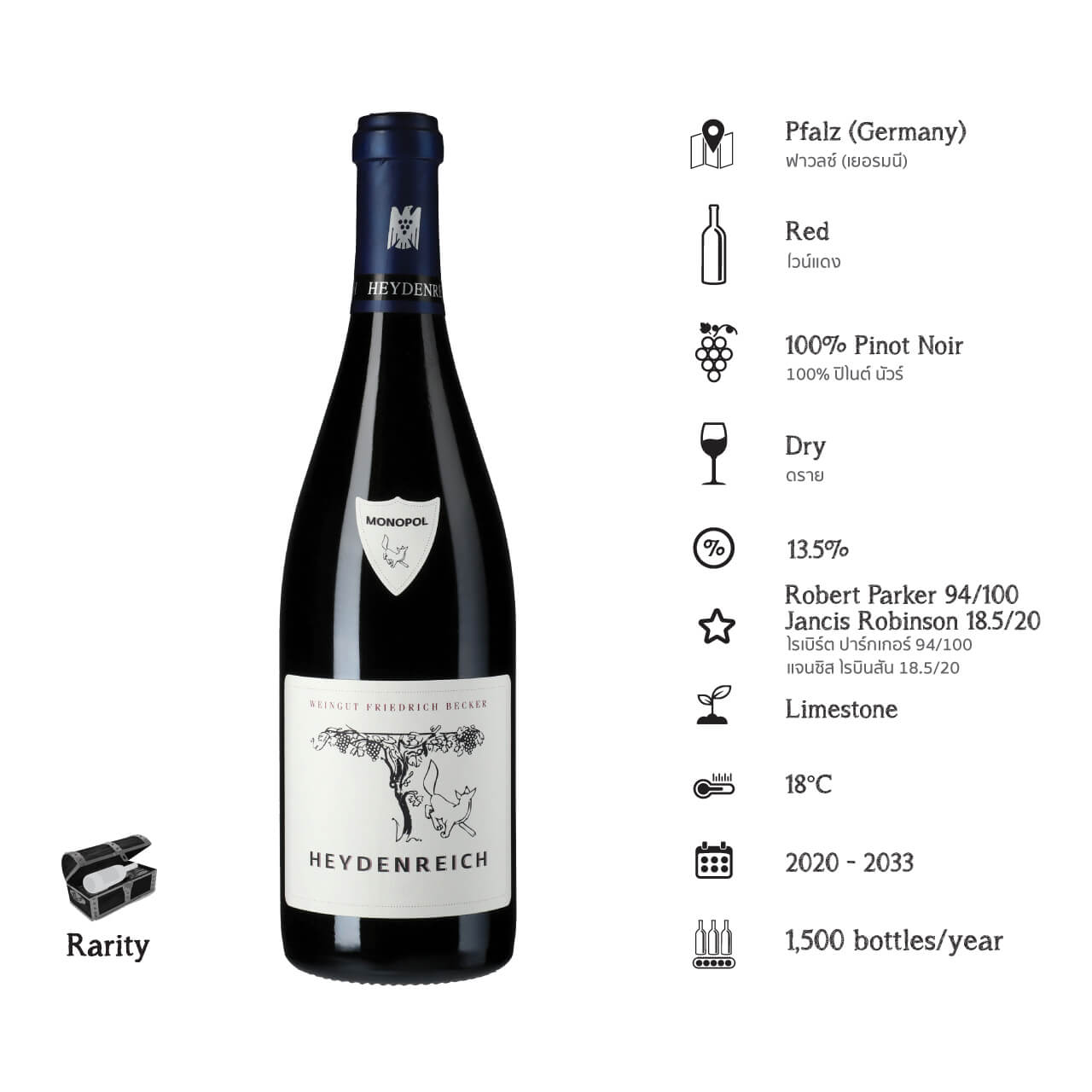 Robert Parker, "The 2015 Heydenreich Spätburgunder GG is deep, concentrated, clear and fresh on the spicy, beautifully intense and alluring nose that displays aromas of dark cherries and berries with thick skins. Pure, fresh and mineral on the palate, the Heydenreich has great tension and concentration as well as great vitality and length. A great German Pinot!" Jancis Robinson, "Loganberry hue with ruby rim. The Heydenreich is the kind of Spätburgunder that sorts the men from the boys and even girls: it's almost a bruiser of a Pinot Noir, with roasted barrique notes almost preventing fruit from showing on the nose, but chocolate and marzipan aromas offer plenty of compensation. Although the tannins are assertive and still quite raw on the palate, they cannot intimidate the juicy substance of ripe plum and cherry fruit. It's not a question of whether, but of when all these rich flavours will merge."